Professional installers of fiberglass and vinyl
liner in-ground swimming pools for homes in the
Chattanooga and TriState area for over 35 years
Located in Chickamauga, Georgia, Jackies Pools Teeters Construction, LLC., is a family owned and operated pool and spa business. We offer complete swimming pool consulting, design and installation. We use only the highest quality materials, equipment, and workmanship in the construction of our pools.
Benefits of using Jackie's Pools for your swimming pool installation include:
Custom Swimming Pool Options
Special design features such as fountains, waterfalls and lighting options can enhance your pool and create the perfect environment for your outdoor enjoyment.
Call us today at

(706) 375-6074
or email us at
pools@jackiespools.com
Locally owned
Custom design pools
Free quotes
90% referrals
Expert in in-ground vinyl liner pools
Expert in Trilogy fiberglass pools
Salt water pools
Inground Liner Replacement
90% of Jackie's Pools clients are return or referred customers who have either worked with us or seen our work in the past. Let us help turn YOUR back yard into a permanent vacation.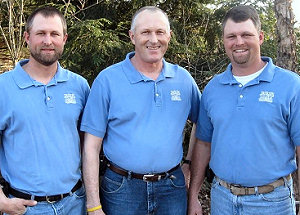 From left to right:
Stacy, Jackie and Stephen Teeters
Jackie's Pools was started in 1973 by the late Jackie Teeters. Later, Teeters was joined by his two sons Stephen and Stacy, who now run the business. With over 35 years of experience, the Teeters have mastered the technique of in-ground swimming pool installation. The Teeters family is dedicated to providing their customers with top quality workmanship and customer satisfaction. Jackie's Pools maintains its excellent reputation by maintaining personal relationships with customers and making sure the job is done right.
There are many benefits for the customer who chooses Jackie's Pools for their in-ground pool installation. The business is locally owned and operated, and will provide customers with a free quote as they search for a company to trust with their business. Jackie's Pools caters to its customers' needs, providing custom designed pools to fit customers' dreams. Special design features such as fountains, waterfalls and lighting options can enhance a pool and create the perfect environment for a customer's outdoor enjoyment. Jackie's Pools can take care of these needs.
Our pool building radius takes us as far as Chattanooga, Cleveland, Dalton, Summerville, Sand Mountain, Lookout Mountain, Tiftonia, Soddy Daisy, Hixson, East Brainerd and Harrison, and as close as Fort Oglethorpe, Rossville, and Chickamauga.

Click here to visit the Lending Club at SwimmingPool.com


Click here for Swimming Pool Loan Solutions at LyonFinancial.com